Stove Installation
Are you looking for a Stove Installation? We are able to offer a site visit and free quotation service within Southampton and the surrounding areas.
It is very important to realise that all stove and flue installations should either be installed and signed off with a certificate by a competent registered installer, or installed according to your own arrangements and then signed off by a building inspector. We will be able to advise you how to install and what regulations you will need to comply with, in order to satisfy a building inspector.
Buying the stove is, for most of us, only the beginning. It is very important that installation requirements and costs are taken into account from the very start. Everybody has a different house, a different chimney and a different agenda so requirements can differ massively. At R.J.Ralls we ensure that all our flue components are of the highest quality and have the knowledge on how to install them.
In this highly competitive market we often hear of poor quality flue components sold at low prices, causing problems with stove installations and future maintenance. This isn't just bad service to a customer its a waste of the worlds resources. It is our aim to sell and install only the highest quality flue  components whilst keeping the price as low as possible. If you live locally to us and don't wish to install yourself, our HETAS registered engineers can do it for you, our experienced engineers are old hands at all sorts of installations from dropping flue liners to fitting an insulated flue through two ceilings and a roof.
Relining an existing chimney
If possible we always try or recommend  lining  an existing chimney when  installing a wood or multi fuel stove. This is because older chimneys are often very inefficient and can leak products of combustion ( tars ) through chimney walls. Relining an existing chimney will ensure the integrity of the flue gasses being evacuated from your stove and due to a stainless steel flexible flue liner heating up quicker will help prevent the flue gasses cooling and condensing inside your chimney. It is important to establish which fuel your going to burn on your stove, as this will effect the grade of liner used. If for instance your going to be burning smokeless fuels (a corrosive fuel) then it is important to use a 904-L grade liner due to it being more corrosion resistant, whereas 316 grade is most suited to wood.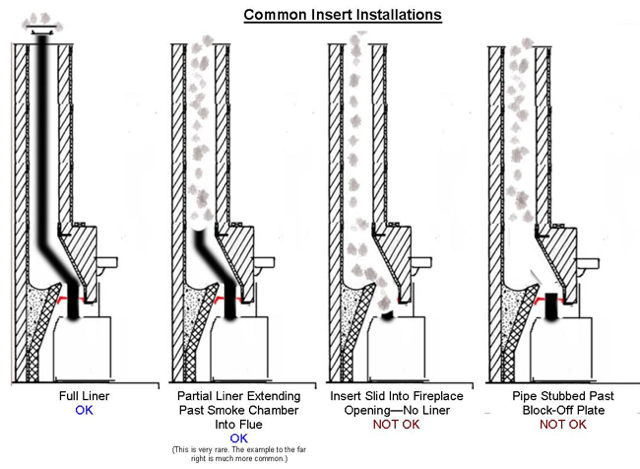 Twin wall flue installations
If you don't have a brick built chimney you can still have a wood burning or multi fuel stove by using a twin wall insulated flue. These are a stainless steel flue surrounded by at least an inch or more of insulation and finished with an outer skin of stainless. Unlike the stainless steel liner used for existing chimneys which is flexible and one continuous coil, a twin wall flue is ridged and comes in various lengths. It needs to be insulated for many reasons, firstly to keep the flue gasses hot so they can rise and be evacuated out in to the atmosphere, also to help stop them from condensing and tarring up the flue system, and it enables us to install 50mm (2″) from combustibles (joists, rafters etc). Were you to use uninsulated or single skin flue, the flue gasses would most likely sink rather than rise and smoke would come back out into the room, it could also be a fire hazard if close to combustibles.
A 6″ flue has an outer diameter of 8″ and a 5″ flue has an outer diameter of 7″, and usually comes finished in shiny stainless but can also be available powder coated in black to suit the stove and vitreous enamelled single skin flue pipe. They can be placed through an external wall and up the outside of the house or they can run inside through lower and upper ceilings and out through the roof. Our twin wall flue systems has an external diameter 50mm (2″)  wider than the internal diameter. This means if you use a single skin vitreous enamelled flue pipe off the stove first, there will be a visible change over from the narrower single skin flue to the twin wall flue.
It maybe that the change over can occur fairly close to the ceiling and not be a problem, but in a room that is taller and the change over more visible it would be better to use whats called a starter pipe. A starter pipe is a short piece of single skin flue pipe that gradually increases into a twin wall system. The flue must be supported every 2 meters and must have at least 1 supporting component. A supporting component takes the weight of the flue system. supporting components are ventilated ceiling support plates, rafter supports, and a wall support bracket. The ventilated ceiling support and rafter support brackets are our preferred choice for internal installations due to visual aesthetics. The heavier duty and bulkier wall support bracket is recommended for external installations.